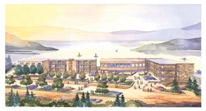 Caravel Resort / Grandview on the Lake
322 W. Woodin Ave, Chelan, WA 98816
Reservations: Call Dennis Walcker at (509) 860-5013
E-Mail: Email Us

Beautiful new 1 and 2 bedroom condo suites include granite countertops, custom tile, microsuede sofas, pillow top beds, custom drapery, and artwork with top of the line everything including our view.

Wapato Point Cellars / Wine Makers Grill
Weddings & Receptions * Rehearsal Dinners * Wine Packages
200 Quetilqasoon Road
Manson, WA 98831
Phone: (509) 687-4000 Ask fo April
E-Mail: Email Us

Wapato Point Cellars for your rehearsal dinner, wedding and reception. Our boutique winery is family owned and operated and taking care of customers is of utmost importance, second only to producing award winning wines and serving delicious, gourmet foods. Whether you are planning a o celebaion for a few, or a few hundred, we will accommodate your group in memorable style.