---
---
---
---
Membership Info.
Become a Member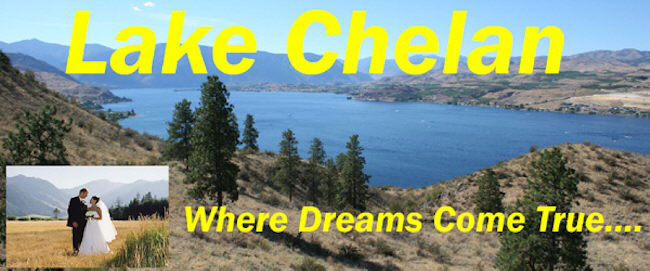 The Lake Chelan Wedding and Honeymoon Association welcomes you to one of the most beautiful places in the world, Lake Chelan, Washington.
A landscape chalked full of spectacular vistas, alluring "secret spots" and exquisite venues perfect for your wedding.
It's easy to see why Lake Chelan is one of the top wedding destinations of the world!
A Photographers Dream, Lake Chelan is 55 miles long from Chelan to Stehekin. Surrounding this gorgeous lake, the breathtaking scenery with over 300 days of sunshine, wineries, entertainment, casino, restaurants, quaint shops and a sophisticated support system for any event, and you've found your perfect wedding destination.
A glorious place to be year-round Lake Chelan offers skiing, snowboarding, snow shoeing, cross country skiing, horse-drawn sleigh rides, sledding, snowmobiling and tubing in the winter. All summer you can go boating, golfing, fishing, water skiing, parasailing and jet skiing. Not to mention the incredible mountain biking, hiking, picnicking and other scenic activities.
Lake Chelan is the premiere wedding destination offering:
Spectacular scenery
Comprehensive services selection
Broad scope of activities year-round
300 days of sunshine per year
The Lake Chelan Wedding and Honeymoon Association can provide you with all the resources you need to make your special day a memorable experience for you and your guests.